Induction Furnace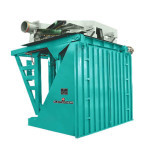 Induction Melting Furnace
Electrotherm E&T provides induction furnace for ferrous metals (iron & steel) that gives you superior performance & minimizes the heat loss during the process.
We are an ISO 9001:2015 certified public limited company & manufacture a wide range of induction furnaces from 500 Kg to 80 Tons. This enables us to fulfill requirements of various metal industry segments including investment casters, foundries, precious metal industry etc.
Steel Frame Induction Furnace
ET Steel frame melting furnaces are available in capacities ranging from 500 Kg to 60 Tons.
These furnaces are ruggedly built with heavy structural steel for trouble free operation under harsh melt shop conditions.
Thick walled rectangular coil sections are used to minimize coil losses. The higher coil efficiency ensures energy savings and higher productivity.
Special coil insulation prevents inter turn sparking.
Insulated furnace lid is provided to reduce heat loss through radiation.
Fume extraction ring / Fume extraction hood provided to capture smoke and fumes.
Coil supports maintain inter turn gap and enhance the rigidity of The coil assembly.